There are no more items in your cart
Shipping

Free

Total

€0.00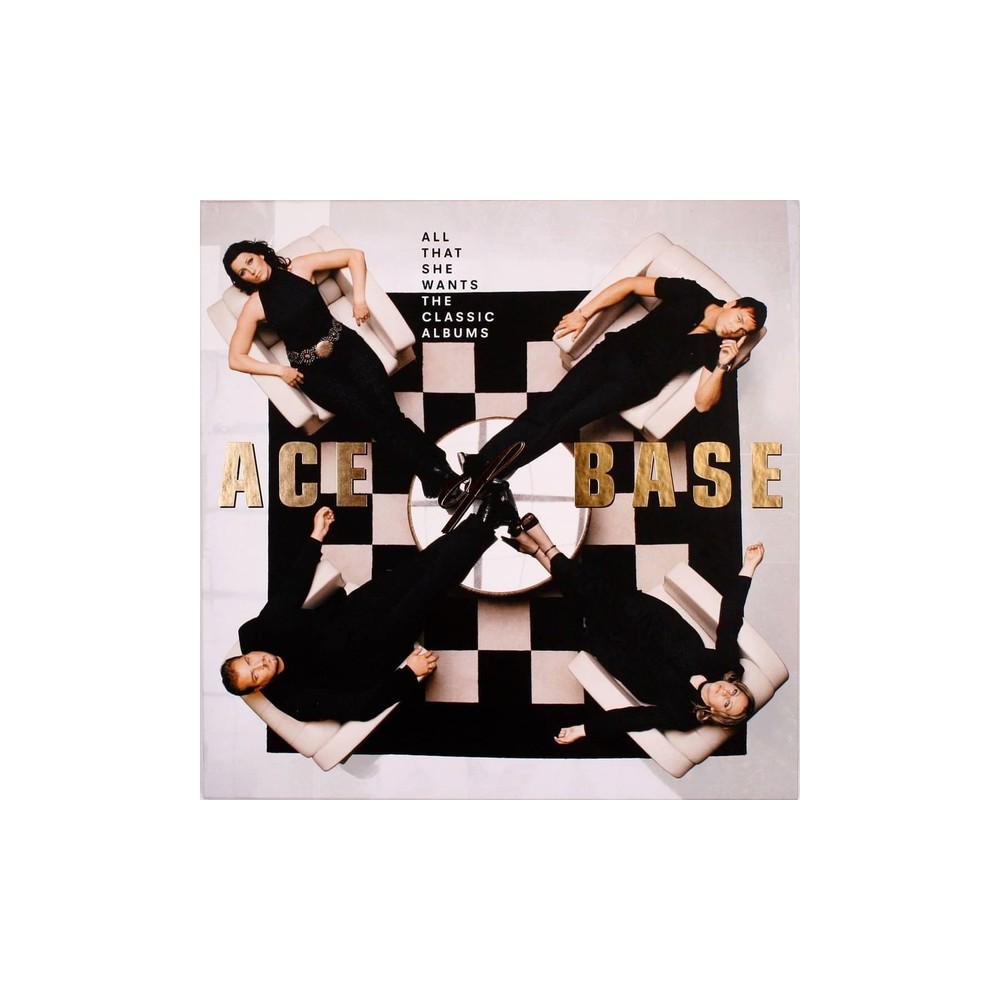  
ACE OF BASE: ALL THAT SHE WANTS: THE CLASSIC ALBUMS 4LP
Happy Nation (U.S. Version)      
A1   All That She Wants      3:30
A2   Don't Turn Around      3:48
A3   Young And Proud      3:56
A4   The Sign      3:08
A5   Living In Danger      3:41
A6   Voulez-Vous Danser      3:17
A7   Happy Nation      4:13
B1   Hear Me Calling      3:48
B2   Waiting For Magic (Total Remix 7")      3:50
B3   Fashion Party      4:10
B4   Wheel Of Fortune      3:52
B5   Dancer In A Daydream      3:37
B6   My Mind (Mindless Mix)      4:08
B7   All That She Wants (Banghra Version)      4:14
The Bridge      
C1   Beautiful Life      3:41
C2   Never Gonna Say I'm Sorry      3:16
C3   Lucky Love      2:54
C4   Edge Of Heaven      3:51
C5   Strange Ways      4:16
C6   Ravine      4:40
C7   Perfect World      3:56
D1   Angel Eyes      3:14
D2   Whispers In Blindness      4:12
D3   My Déjà Vu      3:22
D4   Wave Wet Sand      3:19
D5   Que Sera      3:47
D6   Just 'N Image      3:06
D7   Experience Pearls      3:59
D8   Blooming 18      3:38
Flowers      
E1   Life Is A Flower      3:43
E2   Always Have, Always Will      3:45
E3   Cruel Summer      3:33
E4   Travel To Romantis      4:07
E5   Adventures In Paradise      3:29
E6   Dr. Sun      3:35
E7   Cecilia      3:52
F1   He Decides      3:07
F2   I Pray      3:15
F3   Tokyo Girl      3:33
F4   Don't Go Away      3:36
F5   Captain Nemo      4:03
F6   Donnie      3:45
F7   Everytime It Rains      4:49
Da Capo      
G1   Unspeakable      3:14
G2   Beautiful Morning      2:59
G3   Remember The Words      3:43
G4   Da Capo      3:10
G5   World Down Under      3:23
G6   Ordinary Day      3:24
H1   Wonderful Life      4:15
H2   Show Me Love      3:42
H3   What's The Name Of The Game      3:02
H4   Change With The Light      3:35
H5   Hey Darling      3:16
H6   The Juvenile      3:45

This is a box set containing all four Ace of Base studio albums on 180 g vinyl. This is the first and only release of their fourth studio album, Da Capo, on vinyl. These editions of the albums are based on the original UK CD releases, with the exception of Flowers, which is a combination of the first UK version and the re-release.